Guest Blog Post: Agile – Flexible Project Management with Alison Wood
Are you and your team looking for a project management approach which allows flexibility? Enjoy these infographics by Alison Wood about flexible project management.
Agile is being used more and more particularly by teams who develop digital products such as designers, writers, programmers and marketers. Teams that develop prototypes for clients embrace agile for its continuous feedback system and ability to change priorities at any point during the project. Agile is ideal for teams who are eager to improve their processes, tighten up their team work and above all satisfy the customer earlier rather than later.
Alison Wood, a designer and recent agile beginner from Knowledge Train, has produced these two infographics, aimed at those looking to learn the agile basics. These are a fun representation of both the Agile Manifesto and it's 12 principles, which are applicable to a variety of organizations looking for a more collaborative and responsive approach. You can also download a large-scale printable version of The Agile Manifesto and 12 agile principles to display in your office for reference.
If you find these graphics useful, feel free to share them and comment with your thoughts.
ABOUT THE AUTHOR:
Alison is the Graphic Designer and Communications Manager for Knowledge Train, a PRINCE2 and Project Management training company. Connect with her on Linkedin and Twitter.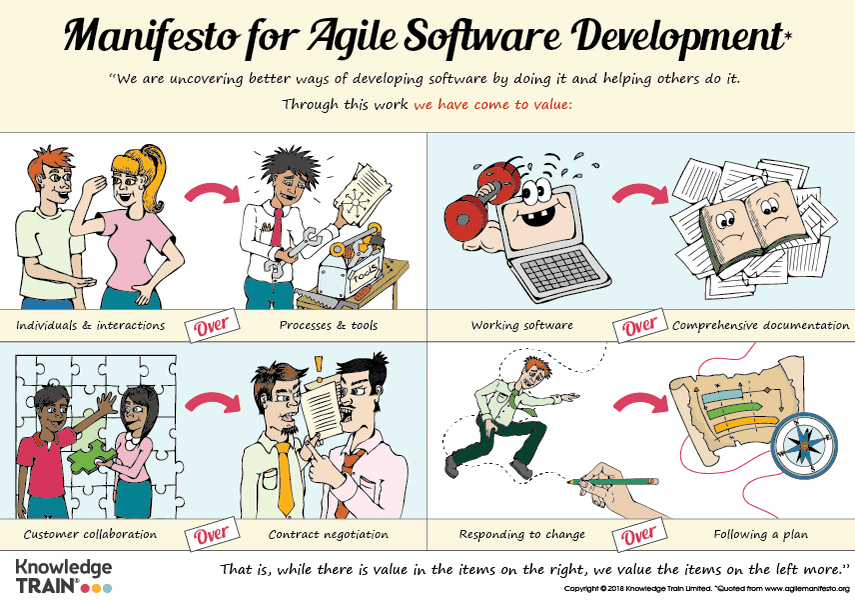 A credit to Knowledge Train, the designer of this Agile manifesto infographic.
A credit to Knowledge Train, the designer of this 12 Agile principles infographic.
https://elisestevens.co/wp-content/uploads/2016/12/Guest-Blog-Post-Flexible-Project-Management-with-Agile.jpg
300
790
Elise Stevens
https://elisestevens.co/wp-content/uploads/2021/01/Elise-Stevens-Logo-Large-Transparent-01-320x114.png
Elise Stevens
2016-12-09 10:59:42
2016-12-09 11:01:25
Guest Blog Post: Agile – Flexible Project Management with Alison Wood